Ijen Crater Tour From Banyuwangi
Sunrise Tour East Java Tour Packages 3D/2N
Packages  Ijen Crater Tour From Banyuwangi Mountain Bromo Surabaya 3D2N
Tour & Program Schedule Ijen Crater Tour From Banyuwangi , Bromo Tours Surabaya:
Day 1: Ketapang Banyuwangi to Ijen Crater Tour

Blueflame Staff will pick you up in Ketapang Harbor, Banyuwangi East java.
You have time to explore the surroundings, such as visiting the rubber factory , coffee plantation in kalibendo, visit kampoeng anyar waterfall – big and small natural waterfall in Banyuwangi
"00.15am"
Day 2: Ijen crater Blue Fire Tour Program to Bromo mountain Tour
Blueflame Staff Will Pick you up at your Hotel on Banyuwangi area
Within 1 hour driving you will be at Paltuding passing Wild Forest , if You lucky you will see Black panther or Java Tiger on the road , They looking water.
from Paltuding Meeting Point all Traveller where you start hiking to the Crater. Prepare Start Hiking with Your Guide -Ex Miners It will take about 1,5 hours to walk the 3 kilometers up hill to the green-bluish lake. Go to Down the crater use Your Gasmask and close the Phenomena Of Blue Fire or amazing Ijen Blue Flames phenomena , After that Waiting sunrise its Nice view when sun come out , with Background Raung volcano And Tosca Colour Lake Ijen Crater
While walking Down to Paltuding, you will meet sulfur miners carrying heavy loads down to the weighing station near the parking area.
"07.00am"
Once back at the parking area at paltuding, you can enjoy Breakfast before getting back into the car. The car will depart to the Bromo Mountain , The trip it will be 5 Hours Drive To cemoro lawang – Bromo area and Stay on Cemoro Lawang Village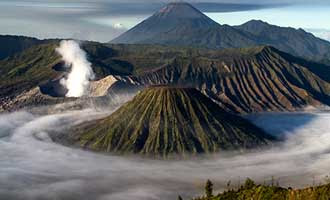 Day 3: Mountain Pananjakan (Bromo area) – Sand Sea – Mountain Bromo Surabaya
"03.00 am"
Again, early morning! Jeep is waiting for you. You will directly be driven to Mountain. Pananjakan* the highest viewpoint to see the sunrise point or You Can Choice Kingkong Hill Point to avoid more people
See The panorama of Mountain Bromo and it's surroundings is awesome at an altitude of 2,770 m above sea level.
After sunrise, the local jeep will descend and Adventure cross the Sand Sea , You will Be see Mount Batok and Hindu Temple of Bromo Tengger
Jeep Will be parking on Bromo Crater from where you can walk to the rim of Mountain Bromo. Up Hiking 250 Stairs If you don't want to walk, you can rent a horse (not included). see Bromo Crater, Enjoy Panorama of Bromo -Semeru Caldera
"08.00am"
Back to your Hotel take a rest, Breakfast
then prepare go to surabaya or Malang city with Your Safety Driver
OPTION A
Cost Price : 1.800.000,- IDR / Persons


Minimal 2 Persons – PRIVATE CAR
NOTE :
Cost Price if 4 person : 900.000,- IDR /person
Include :
Transportation From Ketapang Banyuwangi Harbor to your Hotel in Banyuwangi

Private Car 3 Days 2 Nights

Private Jeep Bromo Mountain

Safety Driver Speaking English

Petrol/Gasoline

Mineral Water

Gasmask in Ijen Crater

Mineral Water During The Program
Exclude :
Accomodation on Bromo mountain / Cemoro Lawang Area

Accomodation on Ijen Crater area

Entrance Fee Ticket all Program

Guide Ijen Crater , Torch Light

Horse in Bromo and personal expense
OPTION B
ALL INCLUDED
Cost Price : 5.500.000,- IDR (Total 2 Persons)
Cost if 4 persons : 7.400.000,-IDR
OR 1.850.000,-IDR/Persons
INCLUDED :
Private Car 3 Days 2 Night

Full Petrol

Safety Driver Speaking English

Private Jeep Mount Bromo

Accomodation on Bromo : Istana Petani Hotel , Bromo Camp House, , HTM Bromo

Accomodation On Ijen Crater : Ijen View Hotel Bondowoso , Ketapang Indah Hotel  , Luminor Hotel , Blambangan Hotel, Aston Hotel

Entrance Fee Ticket All Program

Guide Ijen Crater

Professional Gasmask , Torch Light Ijen Crater

Breakfast included with Hotel

Extra : Waterfall Tours 

Ferry Ticket Cross To Bali / Tol & Fee Parking

Mineral Water During The Program