Top 11 Things to Do in East Java
East Java is the largest province at Indonesia after West Java, Surabaya is the capital city in East Java with population 3 million more as the crowded City after Jakarta and Denpasar Bali , The City is More Clean and some country give award Clean City in the world with Park as Ecosystem and Oxygen City.
East Java have Many City with Tourist Destination , In here we want give Top 11 Things To do in East Java , As now East Java is Famous with Best Destination Tourism.
TOP 11 THINGS TO DO IN EAST JAVA FROM SURABAYA , MALANG UNTIL BANYUWANGI 
1.BUKIT JADDIH MADURA ISLANDS
Bukit Jaddih located at Bangkalan Madura Islands , about 2 Hours From Surabaya and you will passing Highway or Toll in the sea to cross madura islands. Jaddih Hill is Lime stone become mining and make handwork , Until now the mining lime stone still working. Not Only Lime Stone , In Bukit Jaddih have Lake come out from Natural water and Make blue water.
2. MONUMEN KAPAL SELAM SURABAYA
Monumen Kapal Selam Surabaya is Submarine Monumen and Become Museum , The place was located at City Center Surabaya. In here you can Enter Submarine and Know Inside Interior also Enjoy the Movie of War when the submarine have operation at Papua New Guinea. This Tourist attractin Not Only Unique also Educative.
3. COBAN PELANGI WATERFALL
Coban Pelangi Waterfall is one Natural waterfall at East Java located at Dusun Ngadas Tumpang , From Malang Need about 3 Hours go to South Malang. the waterfall have High about 110 meters, Called Coban Pelangi because have Sun Refracted Between the splashes the waterfall and come out rainbow, This phenomenon can be see between time at 09.00am – 12.00am when condition the weather is clear. When You Finish visit Mount Bromo you can stay at the waterfall area for Morning Program Waterfall. Prepare your Jacket in this waterfall area the temperature can be 15 Degrees Celcius.
4. TUMPAK SEWU WATERFALL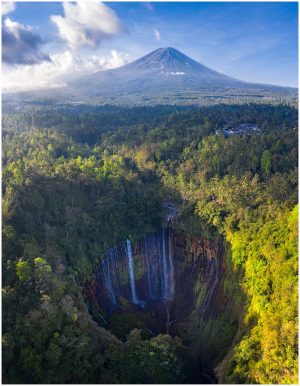 Tumpak Sewu Waterfall is one of the Best Waterfall at East Java Indonesia and now called Niagara Indonesia, the waterfall located at Lumajang City Pronojiwo Village. From Malang can be access about 3 hours. Tumpak Sewu have high about 200 meters. in here you can visit Goa tetes (stalagmites cave ).  Best Visit this Waterfall start by 7am from the area and Guide will assist you due the trekking little bit difficult and many rocks.
5.  MALANG JODIPAN VILLAGE OR MALANG COLOURFULL VILLAGE
Malang Jodipan located on Blimbing Village Malang , its inspired by student of University on Malang by 2016 to clean the area because the condition was dirty and they make program to clean the village and colouring collaboration with Paint Company. Jodipan Malang Colourfull Village is Best Destination and Interested to see at East Java during your visit at Bromo and Ijen , in here have 2 village Jodipan and Kampung 3D (three dimention village which painting art Dimention ) and separated by yellow Bridge Glass. \
6. MADAKARIPURA WATERFALL
Madakaripura waterfall located on Probolinggo East Java close from Mount Bromo , the name village is Lumbang , Madakaripura waterfall have high about 200 meters , this waterfall is most place to visit at East Java when you visit mount Bromo from Surabaya , Malang or Yogyakarta.  From Parking area waterfall you can access the waterfall by Ojeck Motorcycle and you will hiking about 1.5km , you will be see the stunning waterfall with natural waterfall come down.
7. MOUNT BROMO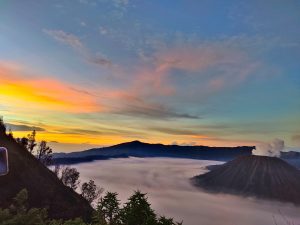 Mount Bromo is one of miracle in the world  with famous golden sunrise, the best time to visit Mount Bromo is on June – October when indonesia have summer season. Bromo located at East Java between Probolinggo , Pasuruan , Malang. Have 03 Point to enjoy sunrise at Mount Bromo : Love Hill , Kingkong Hill and the highest one is pananjakan. you can visit Sea Sands , Hindu temple also Bromo Crater (need 250 stairs go to up). Mount Bromo have local people call Semeru tengger and religion is Hindu Kejawen (diffrent with Balinese Hindu) , Local Tengger have ceremony  called KASADA YADNYA the ceremony is pray to the God for protect from disaster and Gratitude.
8. IJEN CRATER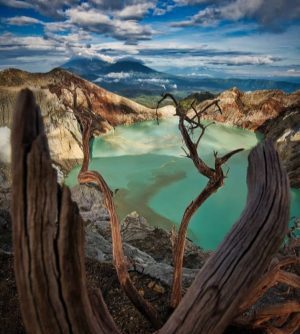 Ijen Crater as known Kawah Ijen located Between Banyuwangi and Bondowoso is the largest acidic lake in the world with amazing phenomena blue fire or Blue Flames Phenomena. Blue Flames Phenomena happen because have sulfur burning and gas from the lake and make steam until 600 degrees celcius. Many traveller come from Bali visit Ijen during the night to see phenomenon. Blue Flames Phenomenon only visible in the night and will be gone after sunrise. Beside Blue Fire Phenomena have Panorama tosca lake , is stunning with Background Raung Volcano.
9. Baluran National Park
Baluran  located on situbondo regency, the territorial is very close to banyuwangi, From Banyuwangi only 1 hour Driving. in this National Park Have Tropical forest with 25.000 ha.The name National Park is taken from the name of Volcano in this area which not active again. In here have two place to explore : Savana Bekol , and Bama Beach, Savana Bekol is like at Africa the place for life animals like Russa (Deer) , Javanicus Bull , Leopard and Peacock.  In savana Bekol have tower place to see activities animal and Bird. The Second place is Bama Beach , Bama Beach is place for snorkeling, enjoy the beach with white sands and the place to see Monkey take fishing with the tail. 
10. Sukamade Turtle Beach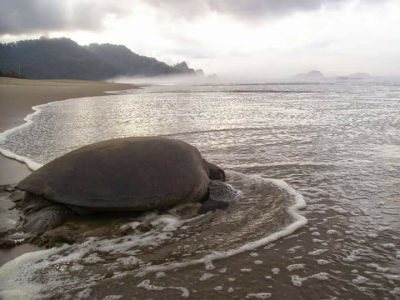 Sukamade Turtle  Beach is located on Banyuwangi about 75km (3 hours trip from banyuwangi) the location is on Meru Betiri National Park. Many Traveller Visit Sukamade Turtle Beach to see Big green Turtle laying Egg in the beach at the Night. In Sukamade also place conservation of Baby Turtle to keep safe from Predator and Release Baby Turtle when they have age about 14 Weeks after come out from the egg.
11. Red Islands Surfing Beach
Red Island as Known Pulau Merah ,Located at Pesanggaran Village Banyuwangi , From Banyuwangi only 2 Hours Driving. The best time to visit Red islands Is on the evening and become sunset (around 4pm) Red islands have best sunset at East Java with White sands , the best sunset panorama is on November – February, the panorama is stunning with red colour.
Top 11 Things To Do in East Java with Destination Tourism Every City.