How to Get Ijen Crater By Train Indonesia :
IJEN CRATER BY TRAIN
Ijen Crater is Part Number two amazing wonder of the worlsds after Iceland with amazing Blue fire / Blue flame Phenomena.  Blue Flames Phenomena Ijen Crater is come out because sulfur burning and have contact with Hot Air Temperature on Volcano.
In 2014 Goverment of Banyuwangi Decided to fix the road to Ijen crater or Paltuding Hiking Area , Now on 2022 the road is good and Jeep Ride is not necessary and Ijen Crater can be take from Banyuwangi Only be One Hour.
If you take Ijen Crater area from Bondowoso / Sempol . The trip will be take 2 Hours with  also no Have train go to Bondowoso or Sempol Area.

The Reason is better use train on java is more safe and avoid scam.
Scam many happen on Bus Station.
 Ijen Crater by Train – Tips and Advice : 

1) Here The schedule Of Train From Yogyakarta – Probolinggo/ Mount Bromo to Banyuwangi – Ijen Crater:

Ijen Crater by Train Option A.
Economy Class
From Yogyakarta to Banyuwangi you can take " Sritanjung Train " Depart from lempuyangan station Yogyakarta on 07.00am Everyday. The ticket price is 100.000 IDR. The train is with air conditioner and arrive on Banyuwangi at 08.00pm /20.00.
NB : *If you want to down on City you must stop on Banyuwangi Kota Train Station. Ketapang Station is outside of the city or direct to Ketapang Harbor Ferry of Bali.

Ijen Crater by Train Option B.
Bisnis Class / Executive Class
You can take " Wijayakusuma Train" . The train depart from Tugu Train Station / Malioboro Station.
arrive on Banyuwangi Train Station by  05.30am
The ticket Price is 200.000 – 250.000 IDR
Additional Information :
*Sritanjung Train and Wijaya Kusuma train is stop to Probolinggo area / Mount Bromo, If you want to visit Mount Bromo first you can Stop! on Probolinggo Station.

2) From Malang – East Java to Banyuwangi
You can take " Tawangalun Train" , The train depart from Malang train station at 15.45/ 03.45pm
and arrive on Banyuwangi Kota Train Station by 23.30/ 11.30pm
The ticket price is 70.000 IDR


3) From Probolinggo Mount Bromo to Banyuwangi Ijen Crater :
a. Mutiara Timur Train
b. Probowangi Train
c. Sritanjung Train
d. Tawangalun Train

Please Be Informed :
1.To buy your ticket train please booking 1 day before your trip sometimes they full or the tickect is sold out, or you can booking online at KAI Access
2.Bring your Copy of Passport. The ticket staff will ask , to make your ticket , chair number , number of train.
3.You can Booking ticket train on Train station , Indomaret, Alfamart , Post Office or Online.
4.All Train is with air conditioner and the ticket include assurance.
Enjoy your Holiday in Java , Take care always, We will waiting your Reserve and Help you in Banyuwangi.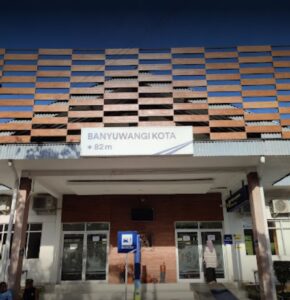 Ijen Crater By Train on Indonesia