Ijen Crater Tour From Bali Packages 2 Days 1 Night Start from Bali by 7pm /19.00
IJEN TOUR FROM BALI, Ijen Crater Tour From Bali, Ijen BlueFlame Tours From Bali , Ijen Midnight Tour From Bali , Kawah Ijen Blue Fire From Bali
 About Ijen Crater 
Ijen Crater is Located on Java area – Banyuwangi city East Java and famous with blue flames phenomena ,  Ijen Crater it self have High about 2386AMSL, On this decade Ijen Crater become Geopark with Largest Acidic Tosca lake in the world , Not only blue Flames Phenomena you can also see activities miners who collect sulphur mining everyday start at midnight until during the day. The miners working under Cina Company located close to Ijen crater area . They Process Sulphur to make formula for medicine , beauty cosmetic and Sugar. Beside that Panorama at Ijen Crater is stunning with Background Blue Tosca Lake Ijen Crater. 
Ijen Crater Tour from Ubud , Canggu, Seminyak , Sanur,Kerobokan or Denpasar we will start by 7pm from your Hotel Bali.  We Depart Everyday From all area Bali. Be Prepare warm clothes temperature Ijen Crater on the top will be 05 – 15 Degrees Celcius.
The trip will be duration one day adventure 24 Hours Trip and overland to East Java Banyuwangi cross by ferry, Change your time , Java time is less 1 Hour Than Bali Time.
Ijen Blue Flames Tour from Bali will be combine with Visit Coffee Plantation , Rubber Plantation and waterfall tours , You can also swim with fresh water at Natural Waterfall close to Ijen Crater area.
Packages Included :
– Private Car Bali Return & Private Car Ijen Tour Return
– Safety Driver
– Full Petrol
– Entrance Fee Ticket Ijen Crater
– Guide Ijen Crater Speaking English 
– Professional Gasmask, Torch light
– Mineral Water during the program
– Snack & Breakfast 
– Ferry Ticket Java & Bali
– Extra Bonus : Waterfall Tours Banyuwangi 
COST 2 PERSONS : 
2.700.000,-IDR OR 1.350.000,-IDR /PERSONS
COST 4 PERSONS : 
3.200.000,-IDR OR 800.000,-IDR /PERSONS
       

Tours Start on Weekend (Saturday – Sunday) it will be adding 10% from total price , Because use weekend ticket. 
NOTE : Ijen Crater Tour From Pemuteran , Lovina, Munduk Bali or Menjangan have change price due the distance is close to gilimanuk Harbor 
Program and Litenary Ijen Crater Tour From Bali Ubud , Canggu Seminyak , Kuta or Sanur  :
Day 1 : Bali to Java Banyuwangi Ijen Crater
–
 19.00

Pick up  on Bali your hotel Ubud /Canggu / Seminyak/ Denpasar / Kuta / Sanu
– 4 hours Driving to gilimanuk harbor to cross java side
– Cross to Java by ferry 1 hour trip
– Change your time Java time is less 1 hour than Bali time
– 23.00 java time Arrive on ketapang harbor Java Banyuwangi (change your time java is less 1 hour than bali time)
– Pick up by our team
– Take a rest or Dinner
– Prepare go to Paltuding Ijen Crater area
Day 2 : Ijen Blue Flames Program – Coffee Plantation – Waterfall to Bali Your Hotel
–

00.15am

Depart go to Ijen Crater
– 1 hour driving go to Paltuding area Parking Ijen Crater
– Arrive on Paltuding
– Prepare and start hiking 3KM with your guide
– Your gasmask and torch light already on your guide and Briefing
– Arrive on Post Bundar, Take a rest
– Go to down to the crater with your guide to close phenomena of Blue flames
– See phenomena  blue flames
– See activities of the miners, process sulphur mining
– Go to up again for waiting sunrise
– See sunrise
– panorama of ijen crater with background raung volcano
– view of Tosca lake of ijen crater
– Back down to Paltuding parking area
– you will see the miners bring heavy loads down sulphur until 100kg
– Arrive on Paltuding , take a rest
– The car depart go coffee plantation and waterfall tours
– Arrive on cofffee plantation and rubber
– Back to car, go to waterfalls
– Arrive on Waterfalls, Big and small natural waterfall- you can swim and then Breakfast
– 09.00am arrive at ketapang harbor
– Cross to Bali by Ferry
– Change your time again 1 hour more for Bali time
– pick up by our team on Gilimanuk Harbor
– go to your Hotel on Bali
– 16.00 Bali time (approx time) Arrive on your hotel Bali
– End Tours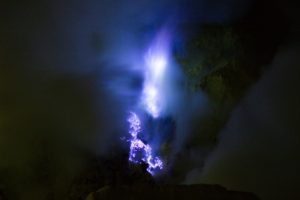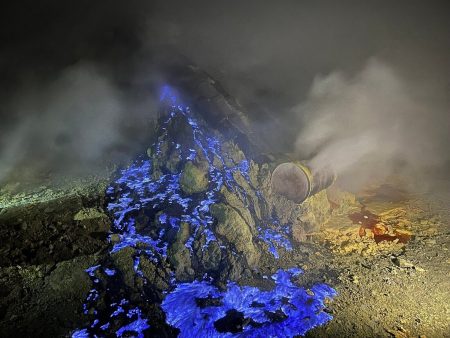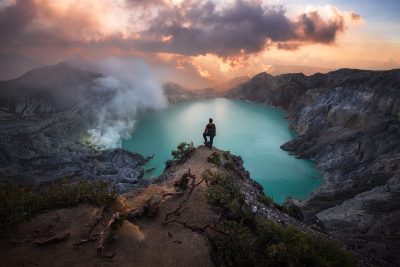 Ijen Crater Tour from Bali is packages 2 days 1 night  from bali ubud , canggu , sanur , seminyak or kuta. The trip will begin at bali by 7pm start. Important thing to Bring for Hiking : Jacket, Long Pants and Shoes Hiking / Sport Shoes)