About Blueflame Tours
Blueflame private day tours is based java guide Banyuwangi and Volcano Guiding
We bring concept " Be locals and with locals" Blueflame was founded 2015 on karangasem, banyuwangi east java.
we are young team family company, which consist of ten staff speaking english
owned by Johanes Tony as your Guide on Java.
Blueflame is not only about business but also how to make traveller
visit Banyuwangi get experience unforgettable and have memories
during they journey on JavaOur Design Packages bring you closer to local life and learn activities locals daily.we Believe sharing is caring.
With more than 7 years of experience in the Volcano touring business and having organised City tours, we can promise you a unique experience .
Our guide will help you to explore and make the most of your time, possess a caring and professional manner. It is like being with a trusted friend accompanying, rather than taking you, to a destination they really love. You will learn far more from them than you will from many guidebooks – our Tour Managers' enthusiasm and intimate knowledge of the destination will bring your holiday to life.
Expert Local Guides
On some tours we use the services of specially chosen local guides who really know their subject. In addition to providing detailed relevant background information, they can also help you connect to the local way of life and culture of a destination.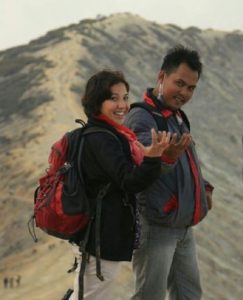 The important reason about the Blueflame Tours founded:
 1. To help Traveller around the world visit and guiding ijen crater with profesional way and visit many tourism destination in banyuwangi ,east java.
2. We have reasonable and normal price to help traveller with minim budget, payless also save time during time in indonesia to many destination in java.
3.BlueFlame have many experience Staff and responsibility to manage your vacation on Java and Bali area
4.BlueFlame is legal and Official private Day tours under licensed Tourism of Banyuwangi Government with name CV. GO BANYUWANGI number : 505/515/781/HPI-410.510/2020
About Blueflame Tours East Java Tour Companies Mount Bromo and Ijen Crater Tour Guide