Mount Bromo Tour From Singapore
Mount Bromo on this decade 2022 after pandemic still can visited especially if you want to enter indonesia . Indonesia Government already give statement no quarantine for International Visitor since 23 March 2022. From Our Experience with our guest from Singapore we advice take Flight From Singapore to Bali the process qualification more easy and fast.  If You want to enter Indonesia and arrived at Surabaya Juanda  International Airport , You can Prepare PCR Test negative , Visa on Arrival and Confirmation Letter Reservation Hotel (we can prepare it Confirmation Letter Reservation Hotel for you )
Mount Bromo Tour From Singapore is the program combine with Ijen Crater Tour ,  Mostly the Favourite program our guest will be : Surabaya – Madakaripura Waterfall –  Bromo – Ijen Crater – (Back) Surabaya 3 Days 2 Nights or you can continue to Bali. 
If You have Many Time on Indonesia you can take our Program 5 Days 4 Nights or 4 Days 3 Nights , We will combine with Rafting Tour , Paragliding Malang , or Tumpak Sewu Waterfall.  We advice arrive on surabaya in the morning with flight Tiger Air arrive at Surabaya Juanda International Airport 09.35am so you still have many time visit Madakaripura Waterfall or Enjoy Sunset Bromo from Seruni Point when the time aplicable and enough. Another Option You can also Enjoy Milky way Program on Mount Bromo start on Midnight.
Mount Bromo and Ijen Tour from yogyakarta , we will start from from Yogyakarta by 7am and we take Highway about 7 until 8 hours go to Mount Bromo , Start Bromo Sunrise by 02.30am and we take kingkong hill point as Sunrise point and Continue go To Ijen Crater for Ijen Blue Flames Program.
Don't Hesitate if You Have Question about your Tour and Planning to Visit Mount Bromo Ijen Crater From Singapore ,We always reply your Email or Whatsapp.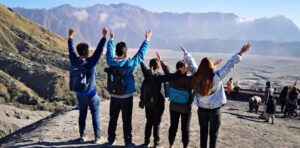 Mount Bromo Tour From Singapore From Surabaya or Bali