Ijen Bromo Tour From Bali  3 Days 2 Nights to Surabaya or Malang
Ijen Bromo Tour From Bali – is One Best Highlight Volcano Tour Indonesia with famous two volcono Ijen and Bromo Packages 3 Days 2 Nights start from Bali All area Denpasar , Ubud ,  Canggu , Seminyak , Kuta , Amed , Lovina or Pemuteran. 

We will start by 7pm from any area of Bali. 

Prepare Your Jacket , Long Pants and shoes we will directly to Ijen Crater Tour From Bali and continue to Mount Bromo area via Bondowoso city.
Ijen Bromo Tour From Bali Program and Litenary :
Day 1 : 19.00 Driving to Gilimanuk Harbor Bali  4 hours and cross to Bali by Ferry by 1 Hour.  Arrive at Ketapang Harbor by 00.30am Java time.  Change your time!! Java time is less 1 Hour than Bali time.  Take a rest , Continue with our comfortable car go to Ijen by 1 Hour Trip.
Day 2 : 01.30am arrive at Paltuding Start Point Hiking Ijen Crater. Prepare and Briefing by our Guide who's Ex miner Ijen Crater.  You will Be Hiking 3km and arrive at Rim Crater by 03.30am. Down to the crater 500 meters to See blue flames Phenomena and Process of Sulphur Mining.
04.30am we will bring you to sunrise point, See sunrise with background raung volcano and Tosca Lake Ijen Crater. 07.00am we will bring you go to down to Parking area. Take a rest and Breakfast. Car Continue go to Bromo area BY 7 hours trip and we will stop at Madakaripura Waterfall.
14.00 arrive at Madakaripura Waterfall , Use sandal and T-shirt because will be wet.  Prepare and Change with Ojeck Motorcycle , Local guide will bring you to the waterfall , Enjoy Panorama Madakaripura Waterfall, the biggest waterfall on Java.  16.00 Car Go to Bromo Your Hotel , 1 Hour driving . Arrive at Bromo Your Hotel Take a rest For Sunrise Program Mount Bromo.
Day 3: 02.15am Our Team will pick you up by Jeep 4×4 go to Sunrise Point of Bromo, 1 Hour Driving to Kingkong Hill Point and take 1km hiking, Waiting sunrise. See Sunrise Panorama of Bromo with Background Semeru Volcano. Continue go to Jeep Again , Jeep will go to Bromo Crater  crossing seasands , stop at Hindu Temple and see Mount Batok.  Jeep will stop at Parking area Bromo Crater Hiking 1km or you can continue by Horse.  Arrive at Bromo Crater take 250 upstairs go to the rim of crater.  You will see panorama bromo crater and the sounds of volcano Mount Bromo which is still active until now.  
08.00am Jeep will back to your Hotel. Arrive at Hotel , Take a rest Breakfast Prepare go to Surabaya or Malang . 10.30am Car Depart to Surabaya or Malang, the trip will be take 3-4 hours driving via Highway / toll.  15.30 arrive on surabaya or Malang. End Tours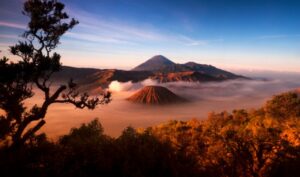 IJEN BROMO TOUR FROM BALI PRICE
Total 2 Persons is : 5.700.000,-IDR or 2.850.000,-IDR /Persons ,
If Have 4 Persons total is 7.500.000,-IDR or 1.875.000,-IDR /persons
Packages will be Included : 
Bali Transport to Gilimanuk Harbor 
Ferry Ticket to Java
Private Car 3 Days 
Safety Driver Speaking English 
Entrance Fee Ticket Ijen Crater 
Guide Ijen Crater 
Gasmask Professional 
Torch Light 
Breakfast Ijen Crater 2 Persons
Hotel On Bromo : FREDELIA Bromo or Gubuk Deso Bromo Included Breakfast 
Private Jeep Bromo 
Entrance Fee Ticket Mount Bromo 
Tol & Fee Parking 
Mineral Water during the program 
Extra Bonus : Madakaripura Waterfall Tours Included All 
Ijen Bromo Tour From Bali is Packages 3 Days 2 Nights depart from Bali by 7pm and Direct to Ijen Crater , continue to Madakaripura Waterfall and Go to Mount Bromo