Tumpak Sewu Waterfall from Bali with Bromo and Ijen 
Tumpak Sewu Waterfall about
Tumpak Sewu Waterfall located on Pronojiwo Lumajang East Java, the waterfall called "sewu" is taken from javanese word that's meaning thousand waterfall, From Malang Tumpak Sewu Waterfall can be reach 2 hours driving. The Panorama in the Waterfall in the morning is stunning with Background Semeru Volcano.  In this Waterfall have 4 Location to Explore : Panorama Hill Waterfall , Bottom Panorama Waterfall , Tebing Nirwana , Tetes Cave.
Tumpak Sewu Waterfall From Bali is Packages 4 Days 3 Nights with Mount Bromo and Ijen Tours , The Litenary will be Bali – Ijen Crater – Mount Bromo – Tumpak Sewu Waterfall – Back to Bali or we will drop at Surabaya or Malang.
Ijen Crater About
Ijen Crater is Active Volcano the last eruption on 1999 have lake with colour tosca and famous with Phenomena of Blue Lava or Blue Flames every night. Ijen Crater itself Have High about 2300, Not Only Blue Flames Phenomena Ijen Crater have panorama Stunning and Activities Miners Of Sulphur.  The Miners Collect Sulphur Everyday on the crater to bring the factory.
Mount Bromo About 
Mount Bromo is Volcano Caldera Semeru Tengger,  Bromo is taken the words from Sansekerta Word of Hindu Kingdom that's mean Brahma God of Hindu. Mount Bromo Itself Have High about 2330 with an area of ​​around 50,276.3 ha. Every Year on June or July Local Tengger Bromo have Big ceremony called KASADA YADNYA, Kasada yadnya that's mean Ceremony to The God for Salvation and expression of gratitude and hope to be kept away from disaster.
Program and Litenary Tumpak Sewu Waterfall  From Bali with Bromo and Ijen
Day 1: 11.00am Bali To Java.

  Our Team will pick you up from Bali your Hotel, the trip will be take 4 Hours go to Gilimanuk Harbor and then cross to java by Ferry 1 Hour.  Our Team will pick you up from Ketapang Harbor and we drive to Hotel Banyuwangi, Take a rest for Ijen Blue Flames Program
Day 2 : 00.15am Ijen Crater Blue Flames Program. 1 Hour Driving to Paltuding Parking area of Ijen Crater, Prepare Hiking 3km with your Guide , Down to the crater about 700 meters to see blue flames phenomenon and activities miner take sulphur mining. 05.30am we will go to up to sunrise point to see panorama of Ijen Crater . Back Down to Parking area take a rest , On the way Back to the Hotel we will stop at Coffee Plantation , Rubber (Latex) Plantation and Waterfall Tours , Arrive at Hotel by 9am.  11.30am we will depart to Bromo area about 6 – 7 Hours Driving. Arrive at Bromo Hotel by 18.00 – 19.00 Take a rest for Bromo Sunrise Program.
Day 3 : 02.30am Bromo Sunrise Program. Our Team will pick you up by Jeep Toyota 4 Wheels.  we will take you go to Kingkong Hill for Sunrise Point and to avoid crowded People. See Panorama Sunrise Bromo and then we will bring you to the Bromo Crater with Stop at Temple of Hindu Bromo Tengger " Pura Luhur Poten" Continue to Hiking Bromo 250 Stairs you can see Crater of Mount Bromo with Panorama Background Semeru Volcano. Back Down we will back to your Hotel , arrive at Your Hotel by 9am, Take a rest and Breakfast. At 10.30am Prepare Check out we will depart to Tumpak Sewu Waterfall via Malang by Highway about 2 – 3 Hours.  We will stop at Malang Colorfull Village or Called Jodipan Malang , You can Explore the Colour Village with learn Local Life. Have 2 Colorfull Village in Here Separated with Yellow Bridge Glass. Continue Drive to Tumpak Sewu area Pronojiwo Village.  Arrive at Accomodation Tumpak Sewu by 18.00 – 19.00 Take a rest For Morning Program.
Day 4 : 07.00am Tumpak Sewu Waterfall Tours.  After Breakfast we will start Hiking Tumpak Sewu with Local Guide , Explore Tumpak Sewu 4 Location.  Finish by 12.00 Take a Lunch Prepare check out we will depart to Malang or Surabaya or Back to Bali again. Finish Tour
Packages Will be Included : 
– Private Car Bali Transport one way
– Private Car Tour
– Safety Driver
– Full Petrol
– Accomodation Ijen Crater : Ketapang Indah Hotel / Luminor Hotel Included breakfast
– Guide Ijen Crater
– Entrance Fee Ticket Ijen Crater 2 Persons
– Professional Gasmask Dual Filter
– Torch Light
– Accomodation Bromo : Bromo Camp House /Gubuk Deso Included breakfast
– Private Jeep Bromo
– Entrance Fee ticket Bromo 2 persons
– Homestay Tumpak Sewu Included Breakfast
– Entrance Fee Ticket Tumpak Sewu Waterfall
– Local Guide Tumpak Sewu Waterfall
– Lunch Tumpak Sewu
– Tol & Fee Parking
– Mineral Water during the program
– Extra Bonus : Jodipan Rainbow Village Malang
More Information about Tumpak Sewu Waterfall From Bali with Mount Bromo Ijen Crater Tours Please Contact Us.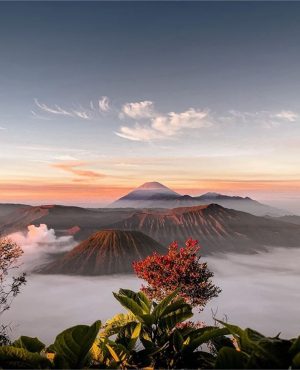 Tumpak Sewu Waterfall From Bali with Mount Bromo and Ijen is Program 4 days 3 Nights Tours Explore East Java.